Somatic Psychotherapy Today offers a collection of articles and insights written to explore the relational realities in body oriented psychotherapy practices. The editor culls cutting edge theories and modalities in the somatic sciences to share with a worldwide audience while also providing a forum for sharing news and advances in clinical practice, research, resources, and policy. Information about professional activities and opportunities in the field of body oriented psychotherapies are offered as well.
SPT was founded on the belief of the power of personal presence in a community of acceptance. What we do individually has a collective impact on our world – its health and well being – and on all living entities that dwell here. Voicing our truth is paramount and finding the right venue to speak is just as critical. SPT offers writers and readers the space to connect, to share thoughts, ideas, and opinions about what matters in the work we do to further our field of study and practice.
While this publication cannot capture everything related to the immense field of psychotherapy and body oriented practices, we strive to provide a venue for our readers (be it therapists, students, researchers, folks in waiting rooms) to experience different perspectives in a light and lively manner we call educational entertainment.
SPT is an independent international publication that is validated by professional organizations and associations representing various modalities in the fields of body psychotherapy, somatic psychology, and prenatal and perinatal psychology.
Founding Editor, Nancy Eichhorn, PhD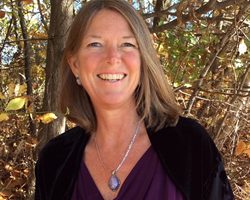 I am a writer, an editor, and a teacher. Writing has always been my way to be me, to voice my experiences, my perspectives, my dreams and desires. Sitting with a blank white page, simply sensing the expanse draws forth creativity, feeds my need to play as possibilities spontaneously arise. One of my greatest joys comes by helping others discover their voice on the page and to know in their entire being that they have something of value to say and the right to be heard. As the Founding Editor-in-Chief and publisher of Somatic Psychotherapy Today, I am blessed to write with our contributors and share in their self-discoveries as they express themselves, personally and professionally. Aside teaching writing and editing clients' work, my personal writing resume includes over 5,000 newspaper and magazine articles, and chapters in professional anthologies, including, When Hurt Remains: Relational Perspectives on Therapeutic Failure, About Relational Body Psychotherapy, and The Body in Relationship; Self-Other-Society.