This has been an interesting year. With Covid 19 morphing into nasty variants, my parents aging gracefully yet with significant health concerns, and my taking a year-long hiatus from work, life has been anything but familiar.
I found myself dipping in and out of overwhelm, feeling lost more than found. Then I did a three-week solo backpack on the John Muir Trail. I faced challenges head-on. Some more successfully than others. I dealt with some tricky turnarounds that others might consider as failures, but I noted my flexibility, ingenuity, resiliency, and resolve. I learned how to sense into my rhythm, to feel into my beingness, and discovered that I was not happy living per other people's time frames and biorhythms. I realized I like moving slow. I appreciated the time to simply sit and do nothing. I returned to the pages of a journal and stories flowed.
Coming home returned me to the same place yet in a different state. I wasn't the woman who left 21 days before. I valued the time apart, away, alone, and plan to make more space for solo treks into the wilderness, both on the trail and in my own living room.
This issue of SPT Magazine offers articles published online this past year for readers who do not follow us on Facebook and LinkedIn, and for those who want all of the articles in one PDF they can download and read at their convenience. I hope 2022 brings a return of contributors willing to share their experiences and clinical knowledge with our readers.
To access our PDF, please click here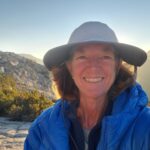 Warmly,
Nancy Eichhorn, Ph.D., Founding Editor and Chief, SPT Magazine
The front cover was designed years ago and never used by Diana Houghton Whiting