Kamalamani's initial 2012 column introduced our readers to an intimate look at a Buddhist perspective in body psychotherapy. We were invited into an awareness of all sentient life and living processes; her writings encouraged personal reflection and professional consideration. We've been pleased to share her writings and to review her books.
Her soon-to-be -released book, Bodywise, comes from a place of gratitude and graciousness. Kamalamani offered to create an ebook of all her columns and donate proceeds to Somatic Psychotherapy Today, to help defray the costs associated with an independently run international magazine. It's generous gifts like Kamalamani's and others who donate to SPT that we continue to exist.
Stay tuned for links to order Bodywise.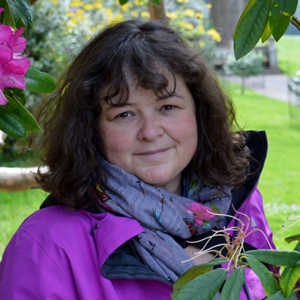 Kamalamani is an Embodied-Relational therapist, Wild therapist, supervisor, facilitator, and writer, living and working in Bristol, England. She's been a practicing Buddhist since her early 20s and loves seeing how age-old teachings and practices are relevant to contemporary life. She works at the interface of body psychotherapy, ecopsychology and ecodharma, drawing upon her experiences of being a development worker in sub-Saharan Africa, a lecturer in International Development at the University of Bristol, her current meditation practice and being a child lost and found in nature. She has published two books: 'Meditating with Character' (poKamalamani is an Embodied-Relational therapist, Wild therapist, supervisor, facilitator, and writer, living and working in Bristol, England. She's been a practicing Buddhist since her early 20s and loves seeing how age-old teachings and practices are relevant to contemporary life. She works at the interface of body psychotherapy, ecopsychology and ecodharma, drawing upon her experiences of being a development worker in sub-Saharan Africa, a lecturer in International Development at the University of Bristol, her current meditation practice and being a child lost and found in nature. She has published two books: 'Meditating with Character' (post-Reichian character structure applied to meditation) and  'Other than Mother: Choosing Childlessness with Life in mind'.www.kamalamani.co.ukst-Reichian character structure applied to meditation) and  'Other than Mother: Choosing Childlessness with Life in mind'.www.kamalamani.co.uk